CREATE FOR THE SHELTER

CALLING ALL CRAFTERS & HANDYPEOPLE!
Don't be limited by what you see here.  These are just a few ideas of items we can put to good use.  Contact us if you're not sure whether your idea for a project is a good fit.
IMPORTANT
South Pacific County Humane Society is a private, 501 (c)(3) not-for-profit organization.
SPCHS does not receive government support or funding from national humane organizations.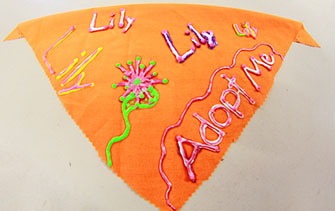 Looking for a creative way to help our pets?
Why not design pet-sized 'adopt me' bandanas and donate them to our shelter?
read more