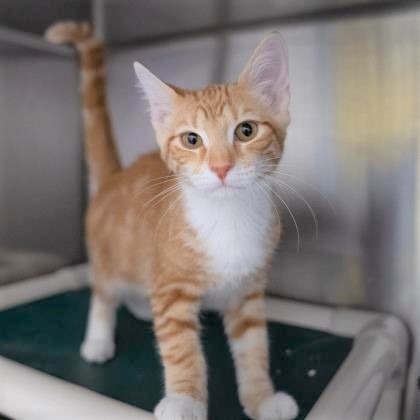 BIG CAT/KITTEN SALE
We have a high number of cats and kittens at the shelter currently, and to help them find their forever homes we are having a 50% off sale from August 25-September 11. Applications for cats at these wonderfully discounted prices need to be submitted within the time frame of this sale. We are still operating the shelter within Covid guidelines, which means potential adopters must first apply for the pet of their choice online. If approved, the potential adopter will be notified and can come into the shelter to meet their potential new pet!  If you are not sure which cat you want to meet in person, just write "view" in the area calling for the name of the kitty you are interested in adopting. This will allow you to visit available cats and kittens.
   For this sale, kittens (less than 6 months of age) will only be $50, adult kitties (ages one to seven) are just $25, and we have some lovely senior cats (over 7 years) looking for their forever homes at only $12.50. These cats and kittens are fully vetted, including up to date on vaccines, spayed or neutered, wormed, and chipped. These veterinary services cost hundreds of dollars in the private sector, so it is easy to see why this kitty sale is such a great opportunity to add a new furry friend (or two!) to your household. We have some darling kittens available at this amazing price, with more becoming available as they grow old enough in their foster homes to enter the shelter. 
   Please take advantage of this great kitty sale and help the cats and kittens find loving homes. If you have questions about the application process or about specific cats, please call our number 360-642-1180 during open hours ( Tues-Thurs 11am to 3pm, and Friday and Saturday 11am to 4pm.