Senior Pets- Annie & Yama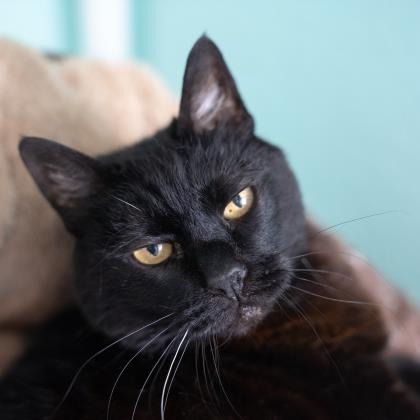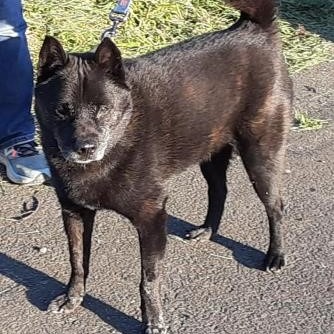 November is Adopt a Senior Pet Month!
To honor this nationwide celebration, we are featuring two of our great seniors, Yama the dog, and Annie the cat as Pets of the Week. Seniors can make great pets because they are typically calmer than puppies and kittens and usually have some prior training. Senior pets tend to be better behaved, and their true personalities have evolved, which makes it easier to determine if they would be a good fit to bring into your home.
Yama is an eight-year-old Kai Ken, a breed of dog from Japan. This is a rare dog breed even in its native land and is one of the six native Japanese dog breeds. In fact, Yama's owner actually adopted him in Japan but had to surrender him to us when her life situation changed and she had to move to a setting where she could not have a dog. This dog breed is described as intelligent, agile, alert, and brave. They can be reserved with strangers, but very loyal to their owners and this describes Yama very well. He was a little reserved initially, but now loves being petted and cuddled by staff and volunteers. Yama still enjoys an active lifestyle and loves going for walks and playing with his squeaky toys.
He is a very young at heart older dog with a nice energy level. He is housetrained and crate trained. He has not lived with children and would do best in a household without children. He can be selective with his dog friends. As Pet of the Week, Yama's adoption fee has been halved to just $25, and he is fully vetted and ready for his new forever home!
Sweet six-year-old Annie was found abandoned with another kitty by our Annex building, so we don't really know anything about her history. She is very affectionate, and if you like a kitty who will carry on a conversation with you, Annie is your girl! She loves to be petted and will meow and chirp the entire time. She is currently in one of our free-range kitty rooms and seems to get along quite well. She is fully vetted, and her adoption fee has been halved to just $12.50.