Emergencies come in many forms, and they may require anything from a brief absence from your home to permanent evacuation. Each type of disaster requires different measures to keep your pets safe. The best thing you can do for yourself and your pets is to be prepared
Have a Safe Place To Take Your Pets
Local and state health and safety regulations do not permit the Red Cross to allow pets in disaster shelters. Service animals that assist people with disabilities are the only animals allowed in Red Cross shelters. It may be difficult, if not impossible, to find shelter for your animals in the midst of an evacuation, so plan ahead. Do not wait until disaster strikes
Contact hotels and motels outside your local area to check their policies on accepting pets and restrictions on number, size and species. Ask if "no pet" policies could be waived in an emergency. Keep a list of "pet friendly" places, including phone numbers, with your other disaster information and supplies. If you are alerted to an impending disaster, call ahead for reservations.
Ask friends, relatives or others outside the affected area whether they could shelter your animals. If you have more than one pet, they may be more comfortable if kept together, but be prepared to house them separately.
Make a list of boarding facilities and veterinarians who could shelter animals in an emergency; include 24-hour phone numbers.
SPCHS provides emergency shelter or foster care for pets during a disaster to the best of our ability. Be aware, however, that we will likely be overwhelmed caring for the animals we already have as well as those displaced by a disaster, so we should be your last resort. 360-642-1180
If you evacuate, DO NOT LEAVE YOUR PETS BEHIND!

Pets most likely cannot survive on their own. If by some remote chance they do, you may not be able to find them when you return.

If you have no alternative but to leave your pet at home, there are some precautions you must take, but remember that leaving your pet at home alone can place your animal in great danger! Confine your pet to a safe area inside — NEVER leave your pet chained outside! Leave them loose inside your home with food and plenty of water. Remove the toilet tank lid, raise the seat and brace the bathroom door open so they can drink. Place outside, in a visible area, notice advising what pets are in the house and where they are located. Provide a phone number where you or a contact can be reached as well as the name and number of your vet.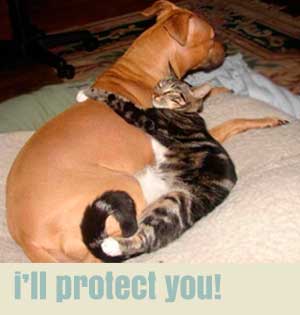 Get a Free Rescue Alert Sticker from the Shelter. This easy-to-use sticker will let people know that pets are inside your home. Make sure it is visible to rescue workers, and that it includes 1) the types and number of pets in your household; 2) the name of your veterinarian; and 3) your veterinarian's phone number. If you must evacuate with your pets, and if time allows, write, "EVACUATED" across the stickers.
During a Disaster
Bring your pets inside immediately.
Have newspapers on hand for sanitary purposes.
Feed the animals moist or canned food so they will need less water to drink.
Animals have instincts about severe weather changes and will often isolate themselves if they are afraid. Bringing them inside early can stop them from running away. Never leave a pet outside or tied up during a storm.
Separate dogs and cats. Even if your dogs and cats normally get along, the anxiety of an emergency situation can cause pets to act irrationally. Keep small pets away from cats and dogs.
Take your birds with you. Talk with your veterinarian or local pet store about special food dispensers that regulate the amount of food a bird is given. Make sure that the bird is caged and the cage is covered by a thin cloth or sheet to provide security and filtered light.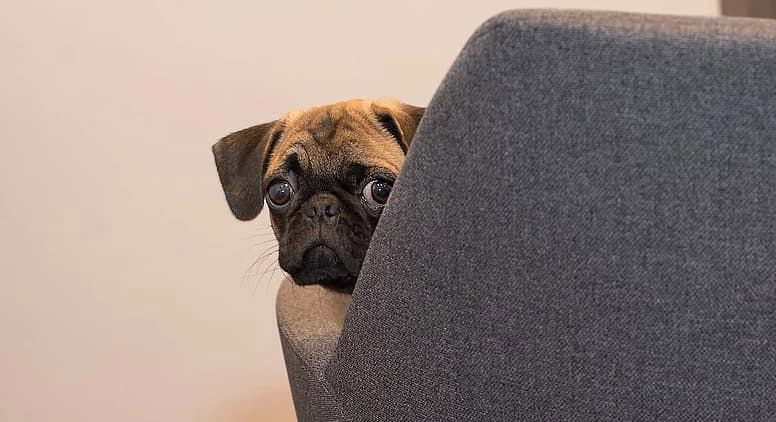 After a Disaster
If after a disaster you have to leave town, take your pets with you. Pets are unlikely to survive alone.
In the first few days after the disaster, leash your pets when they go outside. Always maintain close contact. Familiar scents and landmarks may be altered and your pet may become confused and lost. Also, snakes and other dangerous animals may be brought into the area with flood areas. Downed power lines are a hazard.
The behavior of your pets may change after an emergency. Normally quiet and friendly pets may become aggressive or defensive. Watch animals closely. Leash dogs and place them in a fenced yard with access to shelter and water.
CONTACT US IF YOUR ANIMAL IS LOST: 360-642-1180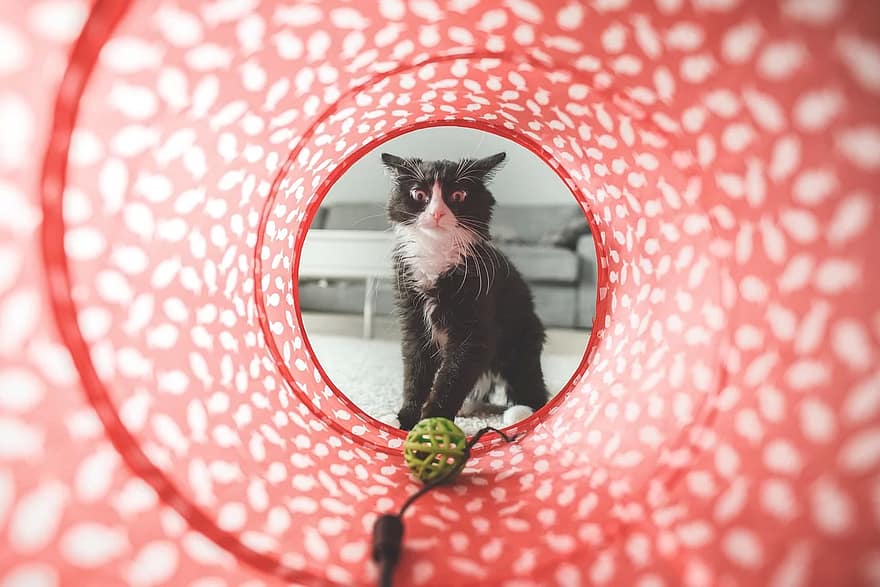 Assemble a Portable Pet Disaster Supplies Kit
Keep items in an accessible place and store them in sturdy containers that can be carried easily (a duffle bag or covered trash containers, for example). Your pet disaster supplies kit should include:
Medications and medical records (stored in a waterproof container) a medical guidebook and a first aid kit. Remember, food and medications need to be rotated out of your emergency kit—otherwise they may go bad or become useless.
Current photos of your pets, and you with your pets, in case they get lost (stored in a waterproof container).
Information (stored in a waterproof container) on feeding schedules, medical conditions, behavior problems, and the name and number of your veterinarian –Oceanside Animal Clinic: 360-642-2232
3-7 days' worth of canned (pop-top) or dry food (be sure to rotate every two months and include a canpener if your canned food isn't pop-top).
Bottled water, at least 7 days' worth for each pet (store in a cool, dry place and replace every two months)
Feeding bowls
Sturdy leashes, harnesses, and/or carriers to transport pets safely and ensure they can't escape.
Pet bed or toys if easily transportable.
Make sure identification tags are up to date and securely fastened to your pet's collar. If possible, attach the address and/or phone number of your evacuation site. If your pet gets lost, his tag is his ticket home.  Consider micro-chipping your pet.
Cleaning supplies, including Paper towels and baby wipes, liquid dish soap and disinfectant and disposable garbage bags
Blanket (for scooping up a fearful pet)
For cats: Pillowcase, toys, litter, disposable litter trays (such as aluminum roasting pans)
For dogs: Long leash and yard stake, toys and chew toys, a week's worth of cage liner.
Your emergency kit for the human members of the family should include:

Food
Water
Batteries
Duct Tape
Flashlight
Radio
Multi-Tool
Tarp
Rope
Permanent Marker
Spray Paint
Baby Wipes
Protective Clothing And Footwear
Extra Cash
Rescue Whistle
Important Phone Numbers
Extra Medication
Copies of Medical & Insurance Information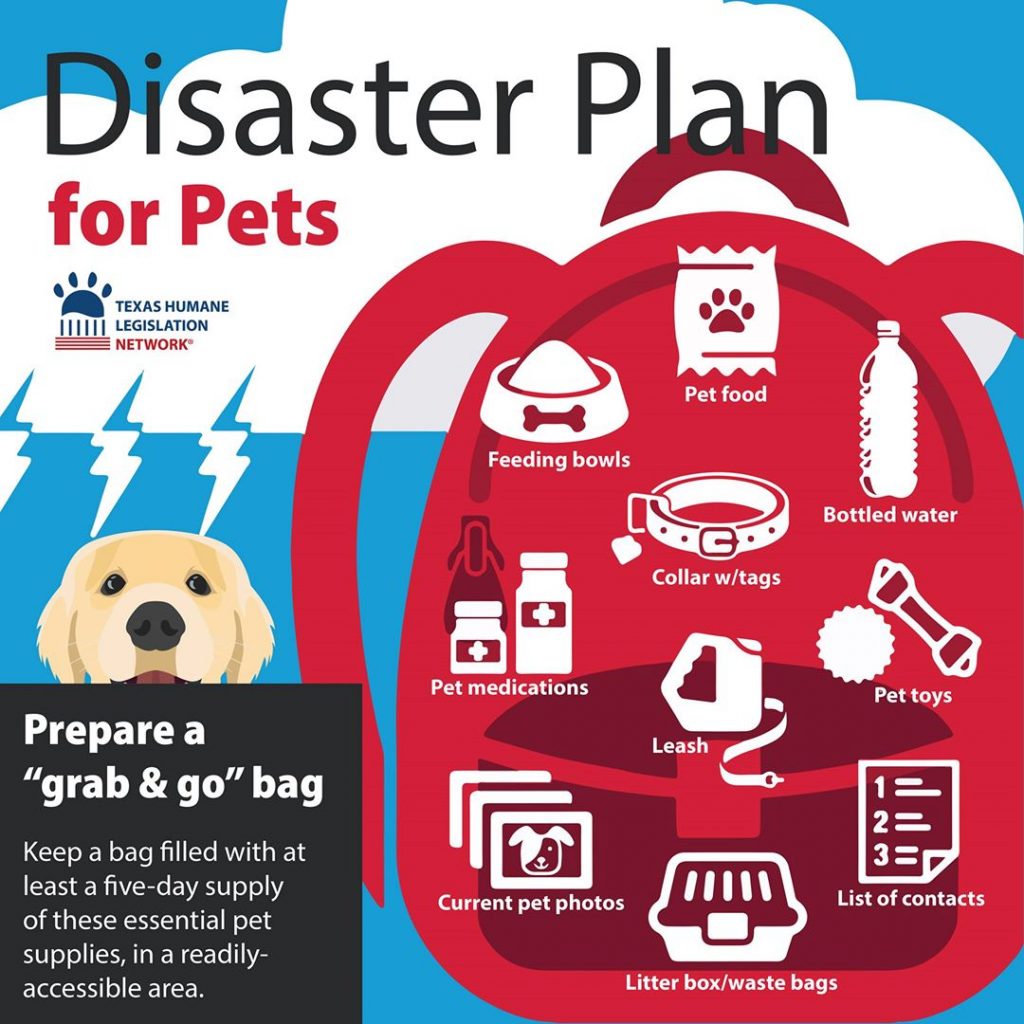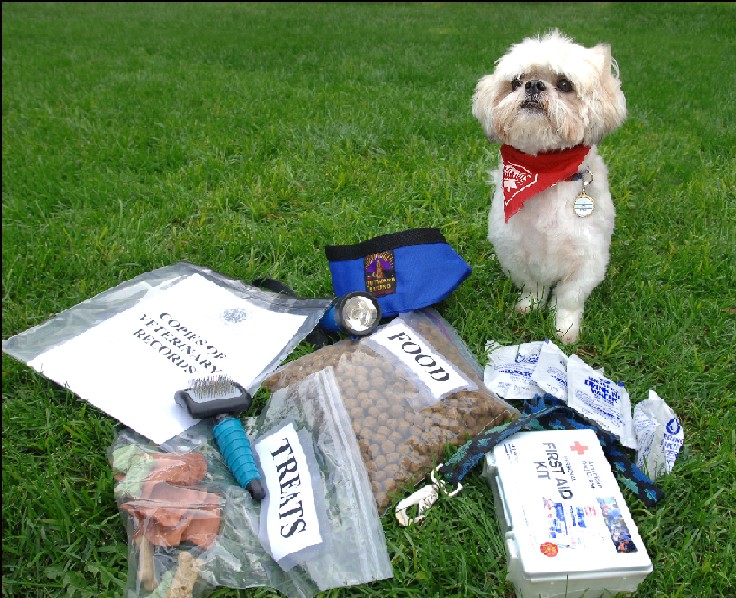 Special Considerations for Small Animals
Small animals, such as hamsters, gerbils, mice and guinea pigs, should be transported in secure carriers with bedding materials, food and food bowls.
Items to keep on hand: Salt lick, extra water bottle, small hide box or tube, a week's worth of bedding.
Special Considerations for Birds
Birds should be transported in a secure travel cage or carrier.
In cold weather, make certain you have a blanket over your pet's cage. This may also help reduce stress.
In warm weather, carry a spray bottle to periodically moisten your bird's feathers.
Keep your bird's leg bands on for identification.
If the carrier does not have a perch, line it with paper towels that you can change frequently. Keep the carrier in as quiet an area as possible.
It is particularly imperative that birds eat on a daily basis, so purchase a timed feeder. If you need to leave your bird unexpectedly, the feeder will ensure his daily feeding schedule.
Items to keep on hand: Catch net, heavy towel, blanket or sheet to cover cage, cage liner.
Special Considerations for Reptiles
A snake may be transported in a pillowcase, but you should have permanent and secure housing for him when you reach a safe place.
Take a sturdy bowl that is large for your pet to soak in. It's also a good idea to bring along a heating pad or other warming device, such as a hot water bottle.
Lizards can be transported like birds (see above).