Mission
To promote compassionate care, spay / neuter, and placement of cats and dogs through service and education.
Vision
To envision the community of South Pacific County where every cat and dog has a loving home, free of abuse and neglect.
STAFF
Our People – Our Shelter Manager supervises a skeleton crew providing animal care and cleaning of the facility.  Volunteers walk the dogs, cuddle with cats, offer adoption counseling, fostering, and marketing, and work through a seemingly endless list of tasks.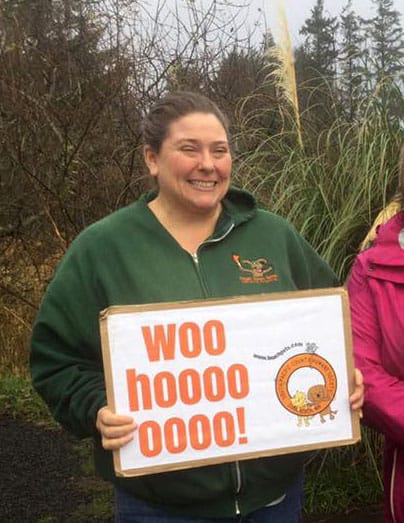 Sara Tokarz
Shelter Manager
Board Meetings
Board meetings are the third Wednesday of every month at 5:30 p.m.  All Board meetings are by video conference.
Board meetings are required for Board members and our Shelter Manager and are open to Advisory Council members and guests.
If you would like an invitation to be on the Board's agenda, please submit your request to the President or Secretary (see right). Requests for invitation should include name, address and phone number.  You don't need an invitation to attend a meeting.
Contact any Board member by email, or by mail: SPCHS Board, PO Box 101, Long Beach, WA 98631.
Advisory Council
Advisory Council members have an assigned activity usually aligned with their area of interest. Activity examples include Dog Advocate, Cat Advocate and Community Cat Advocate.
Advisory Council members are not required to attend Board meeting but can attend any of the Board meetings.
SPCHS has a strong leadership group.  They are diverse, and committed to leaving dissent at the board table and moving forward like single centipede they are.  It was an honor to serve with this group and I recommend doing so to anyone interested in learning about board service and/or helping the shelter in an administrative capacity.
Keleigh Schwartz
Alpha Dog, beachdog.com, Inc.
Board and Advisory Council
Our Board of Directors and Advisory Council work with a talented team of staff and volunteers to accomplish SPCHS' goals and mission.
#
Board Seat
Name
B1
President
Patti Lee
B2
Vice President
Greg Holmes
B3
Secretary
Kathy Condron
B4
Treasurer
Joyce Lang
B5
Immediate Past President
Sandy Clancy
B6
Mission Advocate
Vacant
B7
At Large
Robyn Handley
B8
At Large
Vacant
B9
At Large
Vacant
B10
At Large
Vacant
B11
At Large
Daneka Ewert
B12
At Large
Vacant
#
Advisory Council
Positions have voting rights to elect board members
AC1
Assistant to the President
Paul Lee
AC2
Volunteer Support
Merry Scharfe
AC3
At Large
Mike Iwanciow
AC4
At Large
Constance Curtin
AC5
At Large
Debra Stolesen
AC6
Documentation/Grants
Bev Arnoldy
AC7
Community Advocate
Kate Cooper
AC8
Dog Advocate
Julie Hanenberg
AC9
Technology Support
Kyle Kronenberg
AC10
At Large
Dr. Kelly Spall
AC11
Cat Advocate
Cindi Cochran
AC12
Dog Coordinator
Christine Balcom
AC13
At Large
Jeniene Mercer
AC14
At Large
Lainie Heisler
AC15
At Large
Lisa Erickson
AC16
At Large
Erica Lasley