Our Story – Before There Was a Shelter
The South Pacific County Humane Society began as a grassroots effort to help the animals of the Long Beach Peninsula. Dawn Gregory formed a group called the Pet Protectors, a small non-profit organization. Another small group began under the name of the Humane Society. The Pet Protectors and the Humane Society each worked to trap and alter feral cats, providing a loose network of foster homes, providing temporary refuge for stray pets, and connecting them with forever homes.
Meanwhile, Ed Ketel and Catherine Lindblad's Oceanside Animal Clinic in Seaview, Washington, was pinch-hitting with medical care and very temporary shelter as they could without jeopardizing resources for their patients.
There was not a no-kill shelter in the region and so, when a pet had nowhere to go, the only options were humane euthanasia or to beg a pet be taken in by a surrounding shelter, buying it a little time, the last chance.
1991: The two groups joined forces under the name Humane Society resulting in today's South Pacific County Humane Society (SPCHS) and plans for a facility were dreamed into reality.  Floors heated by water pipe, concrete block construction, air circulation system, quarantine, and common areas were all a part of the plans. The City of Long Beach granted SPCHS an extended lease for the land on which the Shelter sits, with a yearly rent of $1, which has been paid for fifty years.
1996: Construction Begins
A ground breaking ceremony took place on October 4, 1996, and construction began just 3 days later. Funding for the Shelter facility came primarily from a $50,000 grant, a $10,000 bequest, a fundraising mailer raising between $5-$6,000, and a classic car raffle. In addition, a number of businesses and individuals donated time, talent, and materials. Major contributors included Steve Langer, Steve Newell, Milt Wadler, Maria Patten, Krissy Lindsey, Billie Sacks, and Doris Holcomb. Mr. Phil Olsen of the Longview Humane Society was a vital consultant in the construction phase of the shelter. Don Anderson of Peninsula Plumbing, Gary Miller of Universal Services, Ford Electric, Tony Mourikas, Jeff Dorr, and Miller Paints were among some of the many merchant donors. So many names were not recorded; we would like to acknowledge those unnamed volunteers, businesses, and contributors who are not listed here. Your gift of time, goods, and/or services has allowed us to reach out to the community and better serve our animals in need and we, along with generations to come, thank you.
Some of the cash donations received along the way created the organization's general operating fund. While the Shelter was being built, the group continued to use donations of cash and goods to provide food and medical care to pets in need, keeping as many as possible in forever and foster homes.
1997: Open For Business!
When the Shelter opened its doors in 1997, it was unofficially as a no-kill Shelter. In that first year or so, the Board and volunteers quickly ensured that NO-KILL was a part of our mission and vision for all time. No animal in our care is euthanized unless its health dictates this as the most humane course of action or it is unadoptable due to aggression we are unable to either retrain or move to a facility with more capability than our own.
Animals in our care receive medical attention and socialization. All animals adopted from our Shelter are spayed or neutered; it is in our mission to alleviate the dog and cat overpopulation problem.
2006: Reorganization
In 2006, the Board of Directors was reorganized, increasing its seats from seven to fifteen. A group of Board members and Shelter volunteers spent more than a year with the bylaws, clearing up sections that led to dual interpretations and preparing the organization for the next decade and more. Board, Staff, and Volunteer manuals were developed and policies and procedures were developed to both ensure our legal compliance with government organizations and to better position the organization to apply for, and receive, grants and other funding. Over the next few years, Board, Staff and Volunteer Handbooks and other documentation were developed, policies were developed and reviewed and SPCHS was brought from a grassroots effort into a business model.
2009: Expansion
In August of 2009, SPCHS entered into an agreement with Pacific County and the City of Long Beach to lease a small piece of land north of the shelter facility. Using grant funding, the area was developed into a Meet & Greet area for dogs.
2011-2018: More Expansion

In March of 2011, SPCHS entered into an agreement with Pacific County to lease the modular building to the west of the shelter facility through February 28, 2021. The property had a solely administrative function until 2016 when permission was granted to develop a fenced area into a small dog exercise area. On November 27, 2018, the lease was extended to December 31, 2030.
And now…
SPCHS has one full-time Shelter Manager and half a dozen part-timers working early morning and evening shifts to make sure the cats and dogs are fed, have clean kennels and receive proper medical care, Everything else is done by a big team of super volunteers.
Our volunteers walk dogs, cuddle cats, do lots of laundry and dishes, answer phones, process adoptions, solicit grants, promote adoptable animals, help at fundraising events, and much more.  Our Board and Advisory Council volunteers oversee operations and finance and plan for the Shelter's future.
Operating an animal shelter is not cheap.  It costs about $19,000 every month to operate the Shelter.  Our biggest monthly expense is payroll, averaging about $9,000 per month.  For spays, neuters, medical care and medicines, we spend an average of $4,000 each month.  Almost $3,000 a month goes to supplies, which includes cat and dog food, vaccines, microchips, cat litter and disinfectants for cleaning.
Our supply costs would be higher if not for the generosity of the South Pacific County community.  We receive donations of cat and dog food, toys, beds, blankets, bath towels, paper towels, garbage bags, toliet paper and other items we would need to buy.
SPCHS continues to care for animals because of community support.  Cash donations are our top source of income.  Grants, adoptions and fundraising events supplement the support we receive from hundreds of wonderful donors.
Thank you for learning about us.  If you're not already, we hope to consider you part of our family soon through your adoption, volunteering, or donating to benefit our beach pets.
Click any image for a closer look: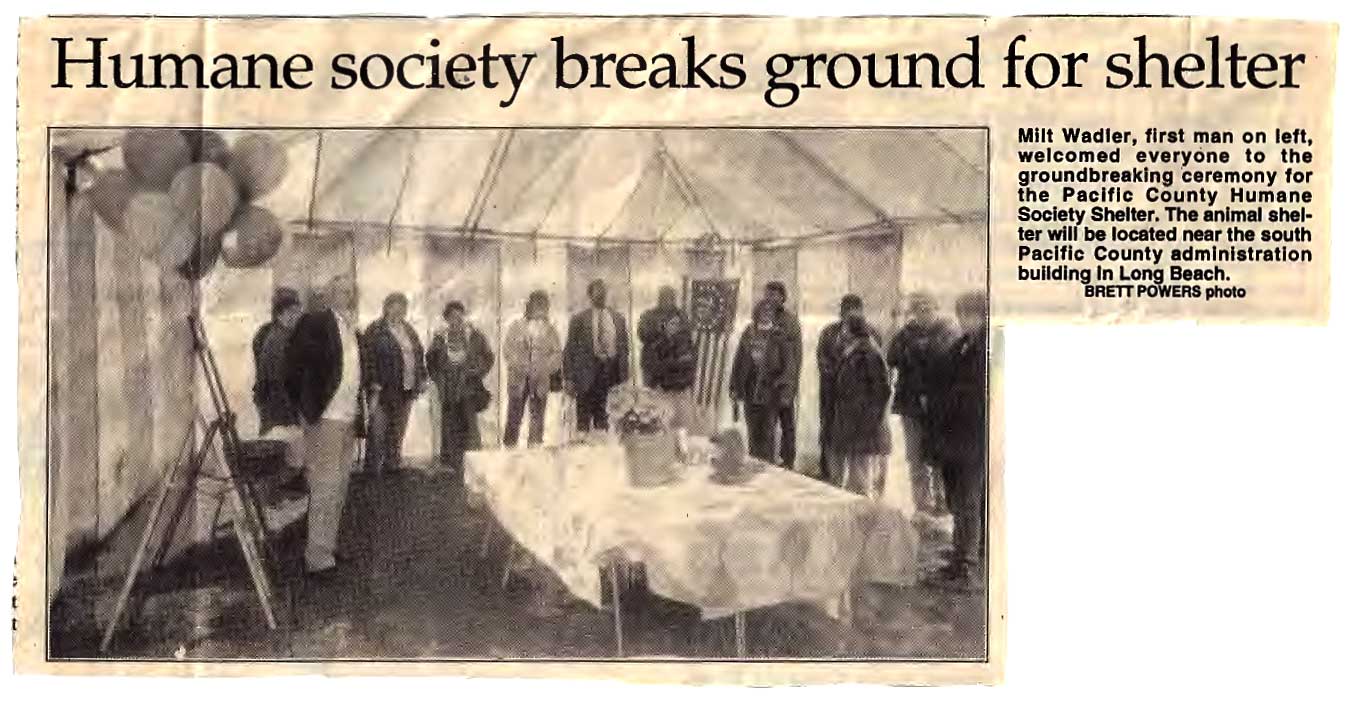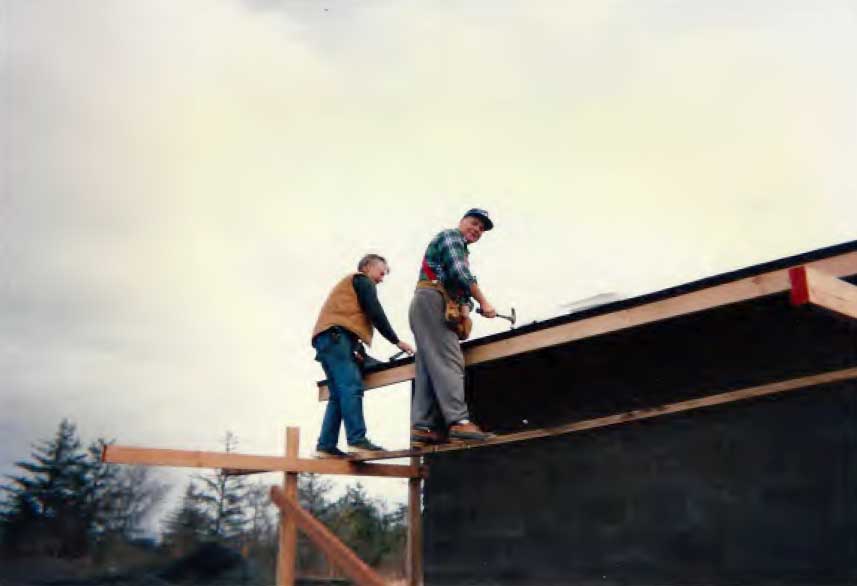 Construction; Professional and Volunteer Labor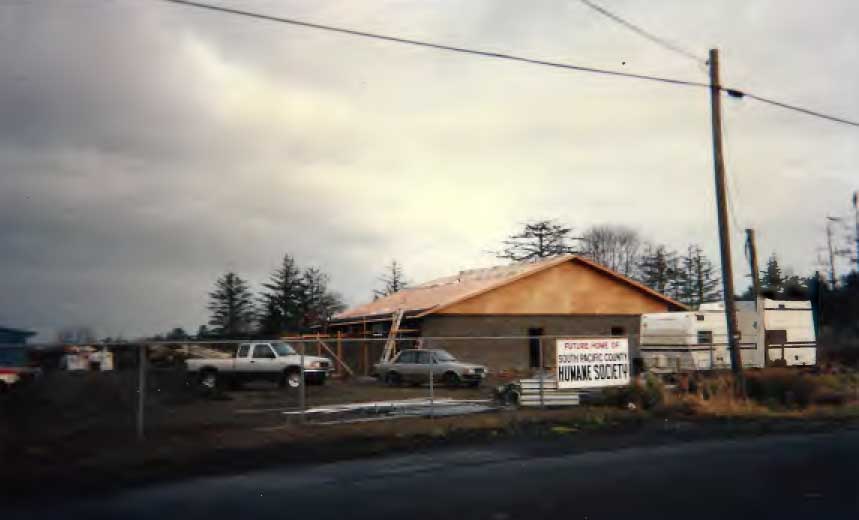 1997: It's starting to look like a shelter!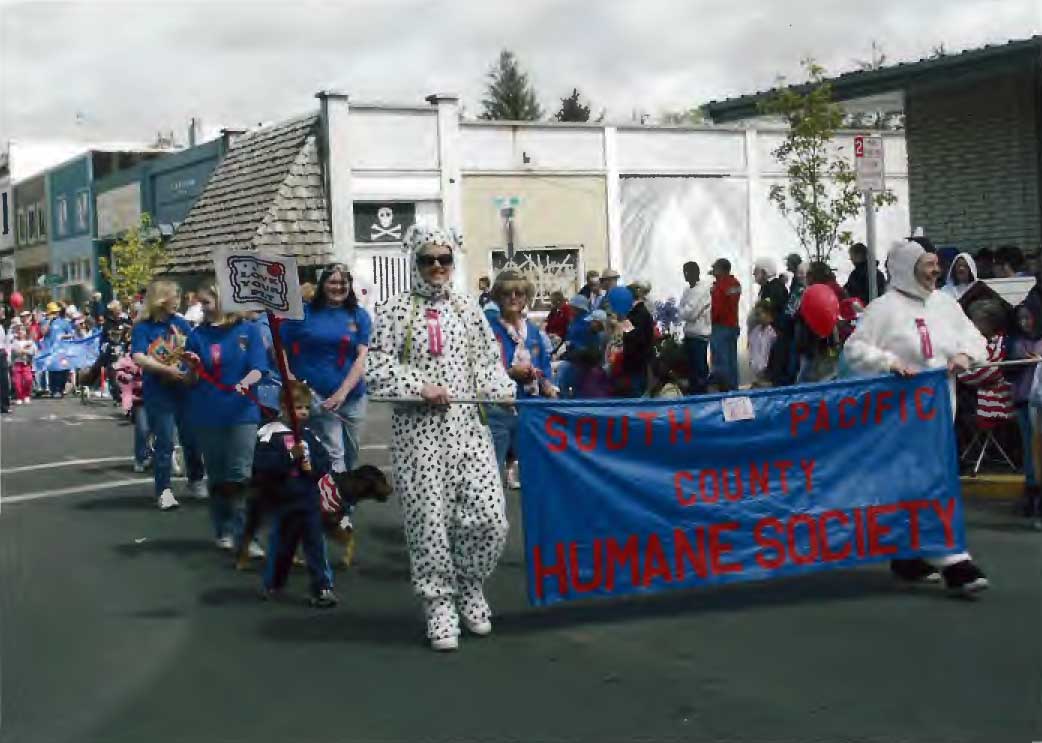 Children's Loyalty Days Parade, Ilwaco, 2001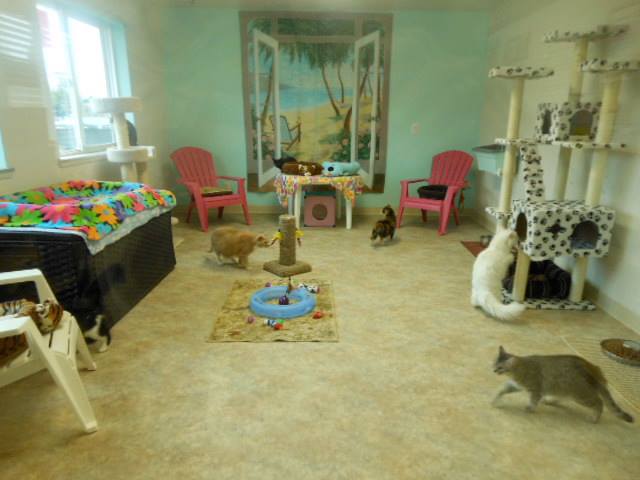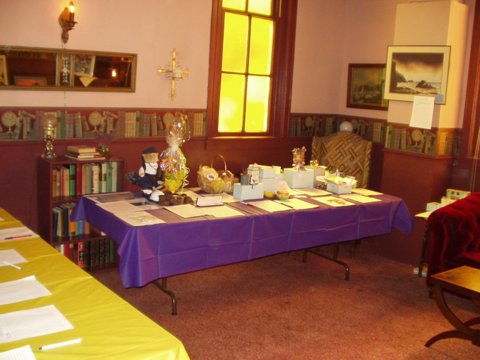 Dinner Auction at the Sanctuary, Chinook, 2004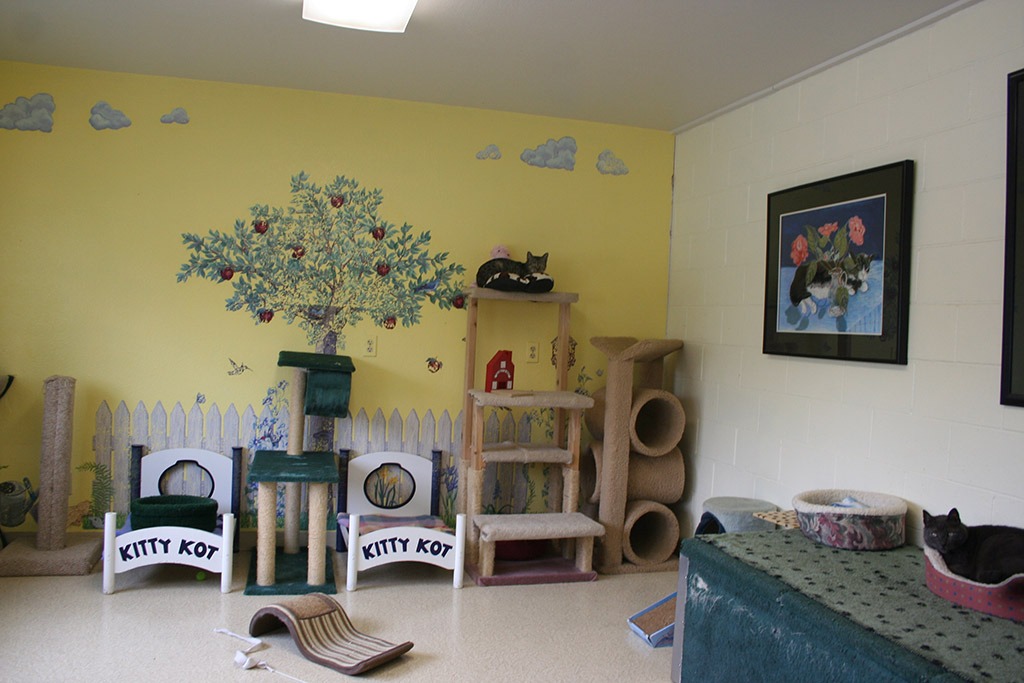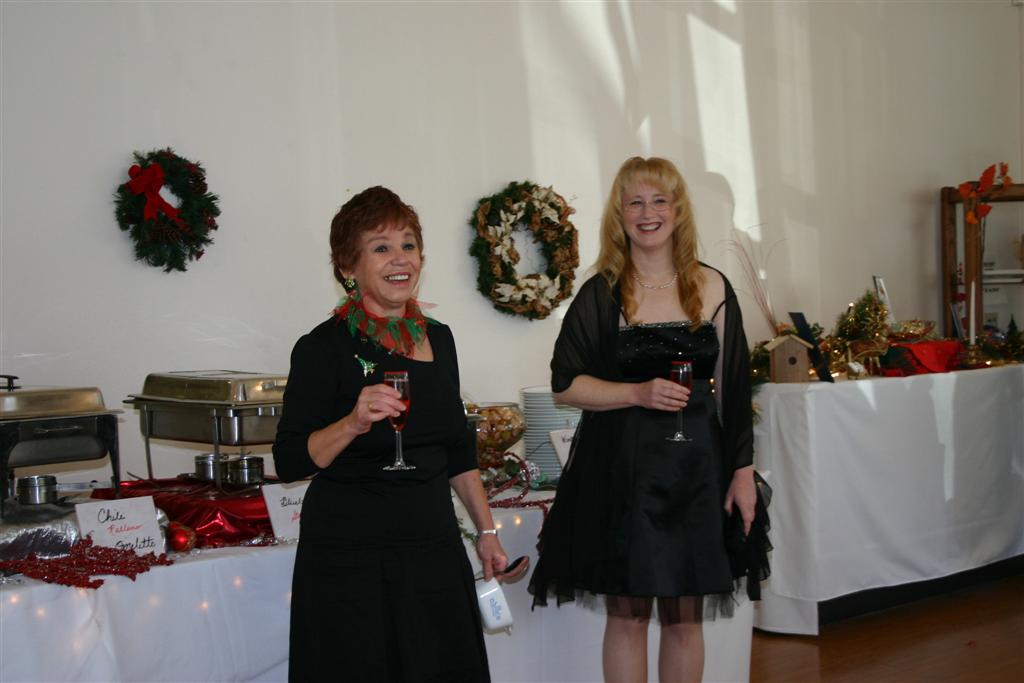 Humane Champagne Brunch, Peninsula Senior Center, 2014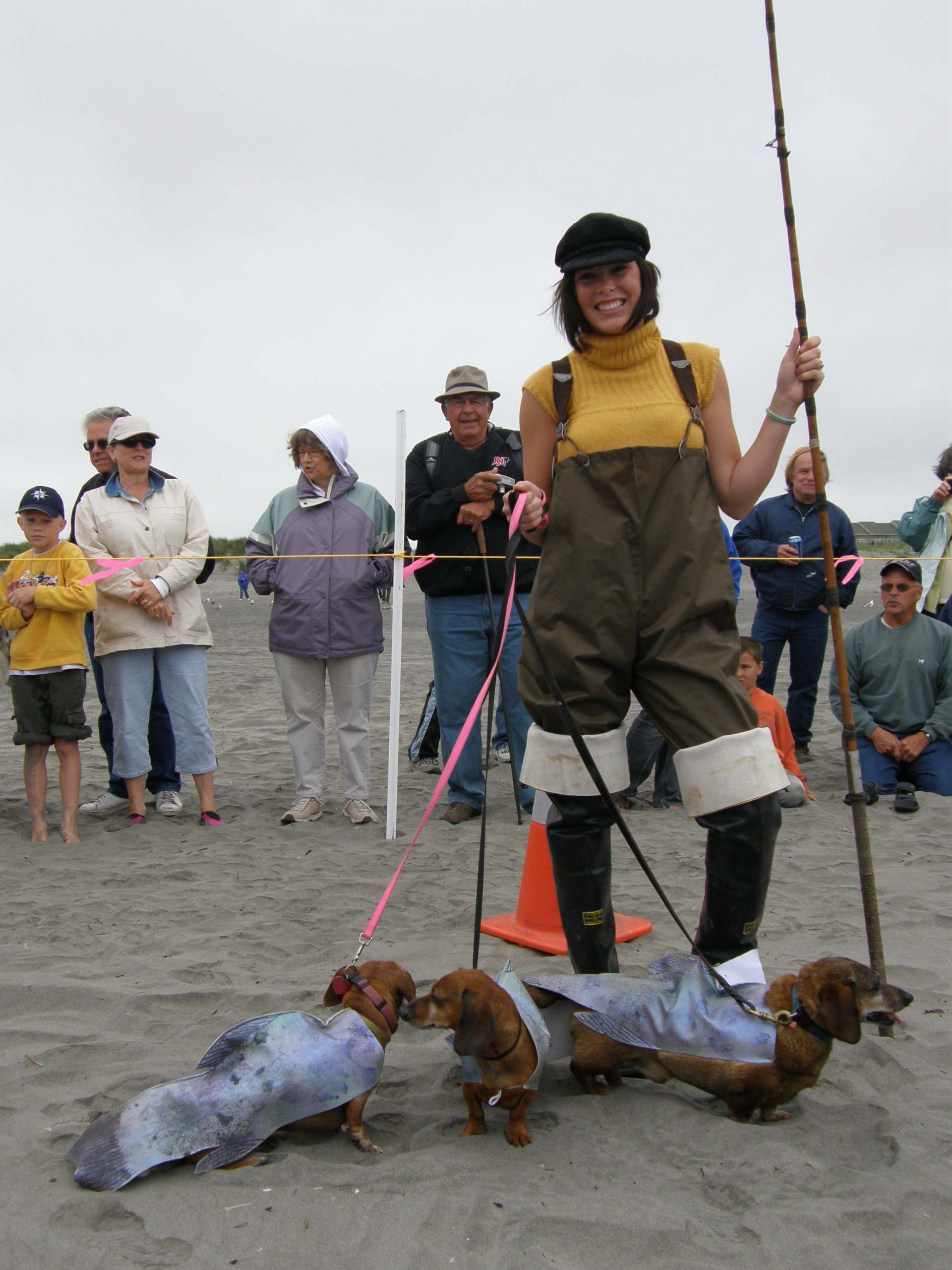 Sand Flea Pet Parade, Sandsations, Long Beach, 2008-14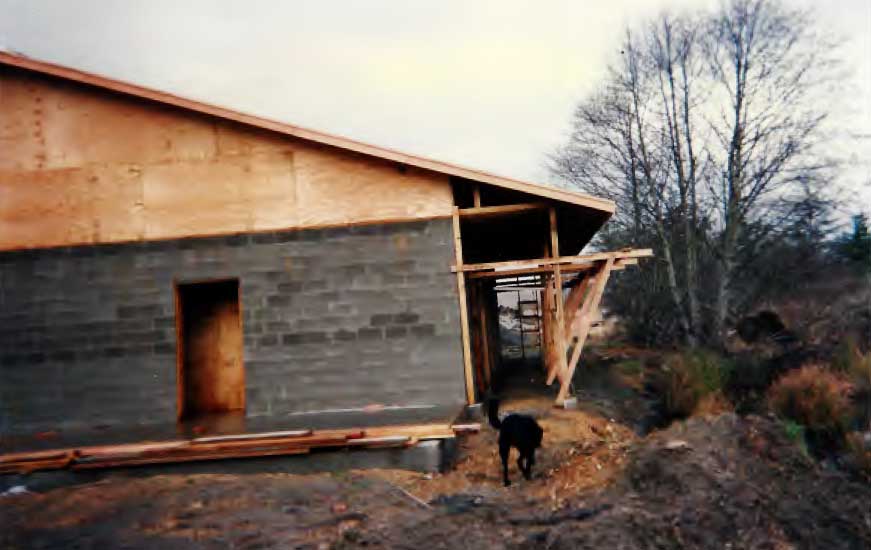 Construction; South and East facing walls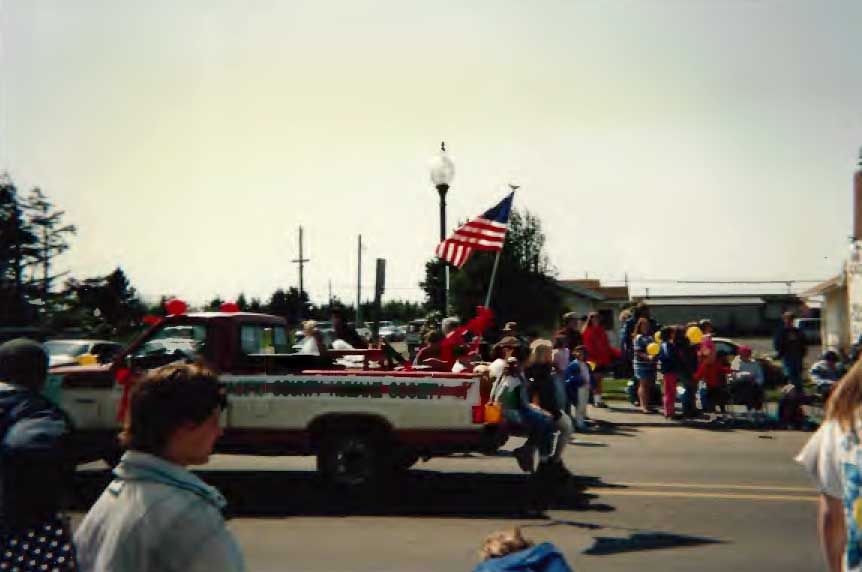 Loyalty Days Parade, Long Beach, 1997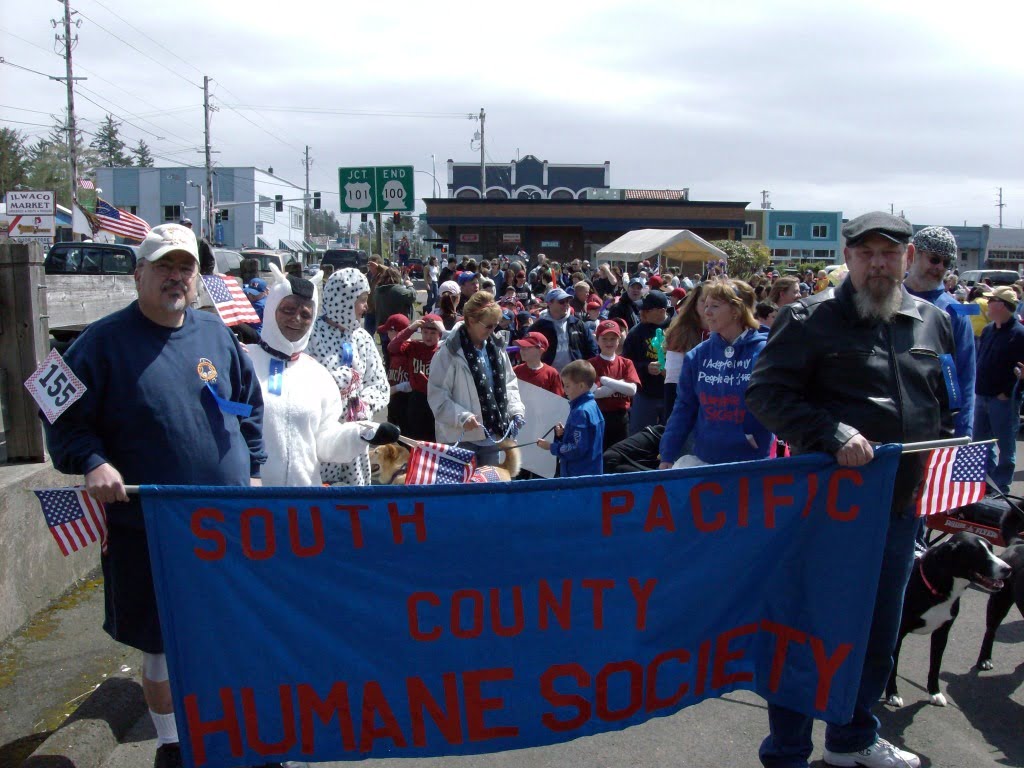 Children's Loyalty Days Parade, Ilwaco, 1999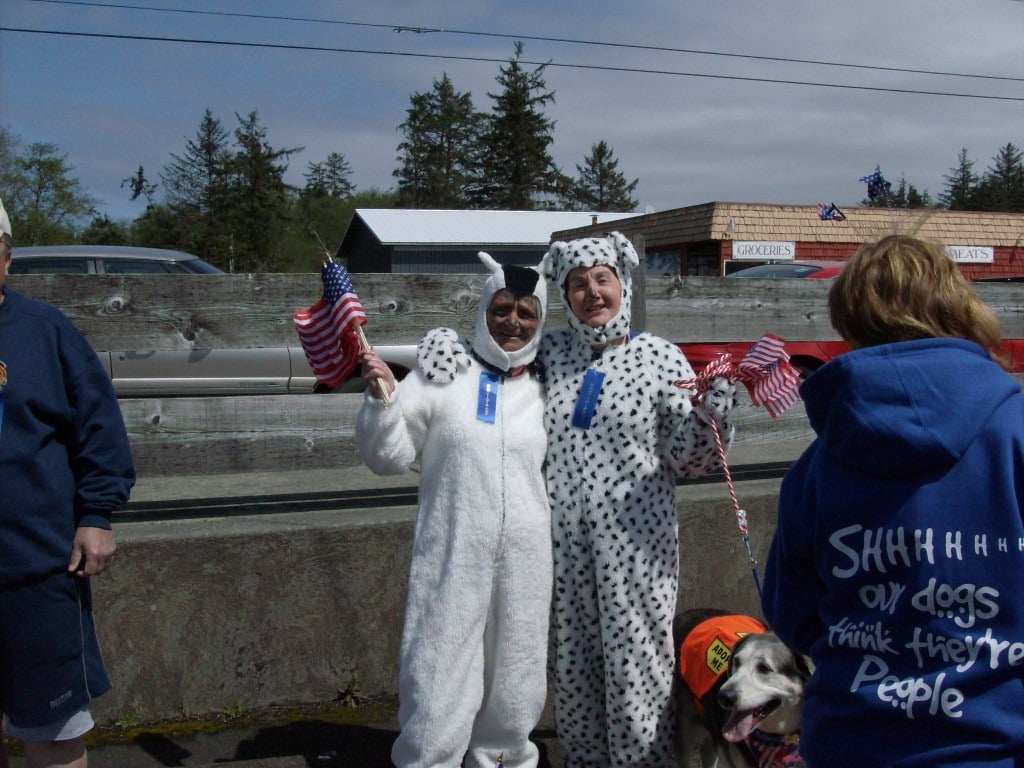 Children's Loyalty Days Parade, Ilwaco, 1999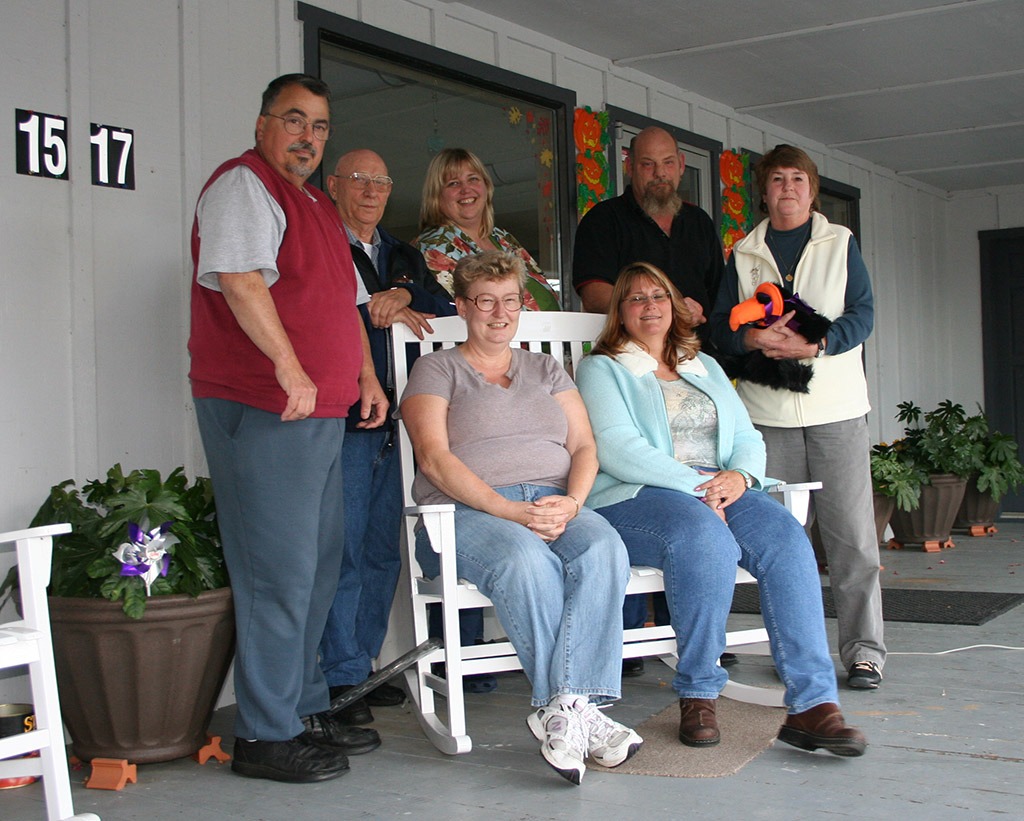 2007 Board of Directors: (L-R) Rod Vetter, Ken Nicholson, Keleigh Schwartz, Jim Galbreath, Cory McKeown (seated) Jane Holeman, Merry Scharfe
Dinner Auction, Chautauqua Lodge, 2008

Beachpets Breakfast, Elks Lodge, Long Beach, 2013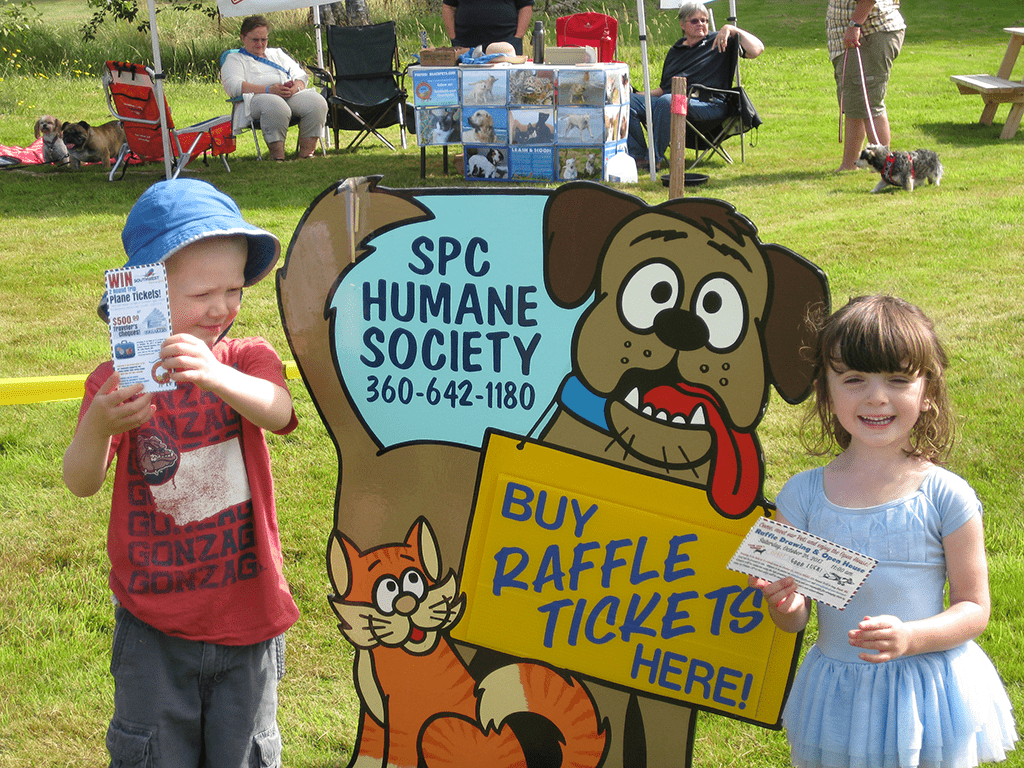 Jazz & Oysters Pet Concierge, Ocean Park, 2014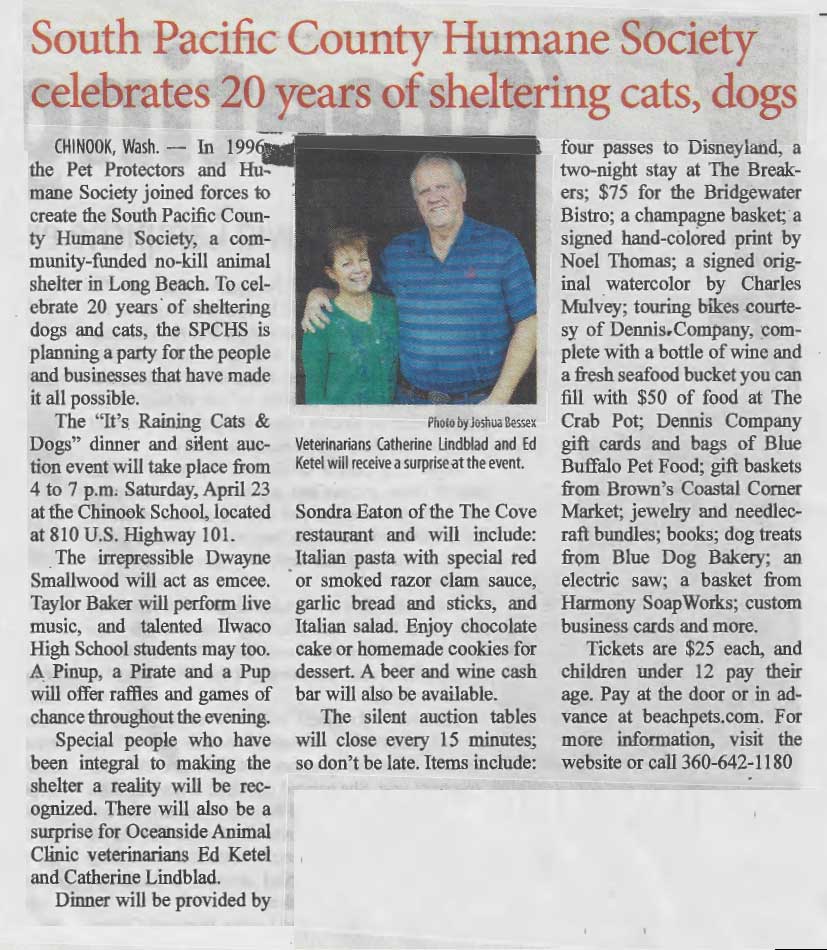 2017:  What a party it was!