Common Springtime items can make your pet sick or die
Easter is here. Colorful decorations, flowers and baskets of goodies are probably filling your house this weekend. Beautiful flowers, chocolate Easter bunnies, potlucks and BBQ — there are many fun and delicious accessories to this special time. However, the things you love can be potentially dangerous to your pets. Here are a few of the items to watch out for this weekend and throughout the spring:
• Springtime allergies: People with allergies know how uncomfortable this time of the year can be, but your pet could be suffering as well. Signs of possible allergies in your pet are sneezing, wheezing, itchy or red skin, and watery eyes. Talk to your vet about diagnosing and treatment.
• Foxtails: These may look harmless, but they can be a dog or cat's worst enemy. Foxtails can embed in fur and eventually work their way into the skin, where they cause painful abscesses and infections. They also get lodged between toes and can be inhaled through the nose. Any of those circumstances means a trip to the vet for your pet and possible surgery.
• Lilies: If ingested, even a small amount can be toxic to cats, leading to kidney failure. Lily of the Valley can affect the heart. Other toxic plants to watch out for: azaleas and rhododendron.
• Chocolate: Dogs and cats are both negatively affected by theobromine, the compound found in chocolate. This is a stimulant comparable to a caffeine high for people. For dogs and cats it is toxic, causing vomiting and diarrhea. If ingested in large amounts it will cause rapid heart rate, irregular heart rhythm and seizures.
• Easter grass: Cats and puppies love to play and chew on things. Be careful not to let this stringy, plastic grass be a meal for your little ones. It can cause vomiting and intestinal obstruction. Surgery to remove the object causing the obstruction (otherwise known as a linear foreign body) can be very expensive.
• Playdough: This common item children find in their Easter baskets is poisonous to pets. The problem with playdough is the amount of salt it contains. Salt toxicity is a severe condition that results in neurological problems such as brain swelling, seizures and incoordination.
Source: http://www.visaliatimesdelta.com/article/20130330/INSPIRE/303300010
Kitten & Puppy Food Drive
A BIG SHOUT OUT to Ilwaco Senior Isabel Araujo who recntly completed her Senior Project of a puppy and kitten food drive for SPCHS!
Help Find Nugget!
March 25, 2013 UPDATE!  12 Days, 3 traps and countless volunteers later, our speedy little Nugget was captured and is now warm, happy and with a full tummy at his foster home.  He'll be available for adoption in a few weeks.  He needs to rest up a bit, then get er, "tutored".
———–
Nugget had just arrived on the Peninsula when he got away from his foster family at the Peninsula Golf Course (N. 26th & Pacific in Long Beach) on Friday, March 8th.  He is scared, skittish, and FAST.  He might respond to a meaty treat.  If you have any information, or can help, contact Michelle at 360-244-0063.
PDF Flyer:  light ink coverage  |  heavy ink coverage
Puppy & Kitten Food Drive
E-Recycle With Us!
One of our newer projects is ELECTRONICS E-RECYCLING, including empty inkjet and laser cartridges, used cell phones, laptops, MP3 players, PDAs and the like.
The money that comes in to the Shelter is of course greatly appreciated and much needed; an extra benefit is doing something constructive for the environment by preventing these items and their often-toxic components from reaching landfills.
We would like to encourage individuals as well as businesses to collect these recyclables. There are several ways of getting the recyclables to us. We have pre-paid envelopes for smaller items so you can drop them in the mail yourself. You may bring your electronic recyclables directly to any of our drop spots:
If you would like to claim your contributions as a tax deduction, please be sure your name and address are clearly visible on a note describing your donation so we can get you a receipt.
Beachpets Breakfast Feb 16th
Our Beachpets Breakfast will be at the Long Beach Elks again, on Presidents' Weekend. Email Rod or Jane @ beachpets.com to volunteer, or leave a message at the Shelter: 360-642-1180. We could use as many hands as want to help out, whether to cook, clean, serve, hang flyers, or just to help get the word out!
Luigi Long Beach's First Video!
Here's my first video, friends!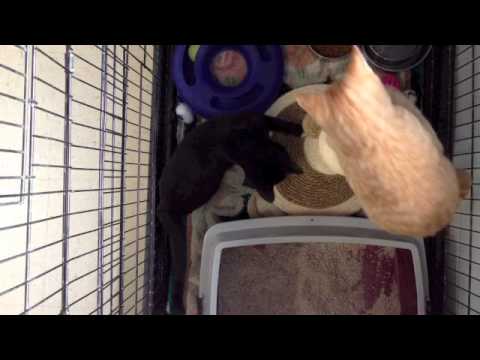 If you haven't made me a friend on facebook yet, come on over! 
And don't forget to LIKE the Shelter page!
Mrows,
Luigi LongBeach
Shelter Spokescat
Merry Christmas to Us!
Thanks to a merchant who shall go unnamed (it is, after all, the season of short-term secrets), we had fun wrapping a baker's dozen gift boxes for our "Gift in the name of " program.  Inside each box is a card telling the recipient a gift has been made to our no-kill shelter in their name on behalf of the giver. 
It's a win-win.  The merchant wrote a check and all their shopping and wrapping was done-just like that!  The Shelter got a nice cash donation, something that is much needed to keep everyone warm and cozy, clean and dry at this time of year.
We'll be wrapping through December 24th and you can order here on our site or by contacting webmaster@beachpets.com.  Here is a list of all the ways you can help us this holiday season.
Donate An Easy-To-Disinfect Kitty Tower/Bed
We would love to get these towers for our Shelter cats!! They never have to be thrown away when we get a disease outbreak as they are easy to disinfect. Will you sponsor a purchase? Use the pull-down menus in the Feline Snoozers Cat-A-Log to select South Pacific County Humane Society in WA.
This Christmas season Feline Snoozers would like you to help out your favorite shelter and get a little something for yourself too. Now thru January 5th, 2013 when you order a Large Tower and a Medium Tower from Feline Snoozers they will send a Small Tower absolutely FREE! Keep one or two for yourself or donate the other(s) to your favorite shelter <wink wink>.
This Christmas season is a great time to help those in need (Both Human and Animal)
Pet Report by Rod Vetter
The Shelter had two great events this past weekends to help out the community during the Christmas season.
The first event was the building of a fence at a home to get "Nick" the dog off of a chain he has been attached to his whole life. Volunteers from SPCHS partnered with Fences for Fido from Portland to fence in the back yard and built a new doghouse. There is nothing more joyful than to see a dog who has never been free to take his first run around the yard. PHOTOS. We hope to partner with this Portland group throughout the New Year. You too, can volunteer for these fence-building events by contacting SPCHS at 642-1180.
We also had our annual Pet Pics with Santa, in partnership with the Dennis Company, on Saturday. People and animals kept Santa very busy for 4 hours. The final tally included 111 dogs, 4 cats and assorted family members jumping into the pictures. One set of pics involved 10 Chihuahuas and 2 doxies all dressed up for Christmas.  Everyone, including volunteers, had a great time. Our thanks to Dennis Company once again, for their dedication to the animals of SPCHS.  PHOTOS.
The Shelter has a great selection of small dogs right now. We added a Border Collie and six Chihuahuas on Friday. All have been fixed, had all of their shots, and are micro-chipped. This is a great opportunity for early birds. MEET THE PETS.
We always have an assortment of adult cats and kittens. Featured in the lobby is Knight, a large black neutered male who is very friendly but is afraid of dogs. Turk, a big grey and white male, likes to talk to everyone who comes to the Shelter. If we open the window he stops talking and looks out.  He would be a really a great cat to have for companionship. MEET THE PETS.
Next Saturday, December 15th, we are having Christmas with Critters party at the Shelter.  Join us to celebrate all the animals that we have saved over the years and all the animals that are in our Shelter at this moment, waiting for their chance at a "forever home". Please stop by the Shelter between 11am and 3pm to drop off your donation of canned chicken, salt-free tuna, a blanket to snuggle, or a toy to play with and receive a gift from our pets to you.  The collected food will be cooked into special Christmas dinners for the dogs and cats.
As always, your donations are always welcome as in canned dog/cat food and dry dog/cat/kitten food. Paper towels and liquid detergent are always a big hit.  Follow this link for many ways you can help SPCHS.
Many thanks for everyone's generosity and Happy Holidays to all. 
Kuranda Pet Bed Drive
We've had a number of Kuranda beds donated over the years – thank you! 
The "chewproof" design works well for both our indoor and outdoor kennels and they are safe for chewing puppies and anxious adults. The cats adore the bunk bed style, where they can be up high and also in a private cubby.  They're soft, comfortable, last for years, and keep pets off the floor-and out of drafts. They're easy to clean and deodorize and we can replace the fabric and parts when needed. Best of all, the pets LOVE them, with and without additional bedding on top.
Mark your calendar!
December 15: Christmas with the Critters party at the Shelter! • Dec 25:  Christmas Morning food, blanket and toy drive • Follow this link for all the latest on holiday happenings in, around, and for the Shelter. • You can even buy your holiday gifts and cards here!
Ilwaco Approves Exotic Pets Ordinance
"ILWACO — Don't get your feathers ruffled if hens don't tickle your fancy, the city of Ilwaco approved an ordinance amendment last week that allows residents to keep a variety of species as pets so long as they have proper permitting from city hall.
The amendment became a project for the city council in October after Ilwaco residents Glenn and Hillary Trusty requested permission to keep a bobcat as a house pet.
The ordinance defines a "wild or exotic animal" as non-domesticated species of felines and canines; bears, nonhuman primates and prosimians; the order crocodilia (such as alligators and crocodiles); and snake species that are "capable of inflicting serious physical harm or death to human beings."
Residents will now be able to apply for a non-transferable permit to keep such a pet as long as the city is provided with sufficient evidence that the animal would have a secure enclosure; that the premises are posted with signage that warns of the animal; proof of proper insurance ($50,000 or more); a $75 permit fee; and copies of all federal and state required documentation.
A private citizen caught possessing or maintaining a wild or exotic animal without a permit could be fined $250 per day of violation, and, depending on the circumstances, could be forced to euthanize the animal.
The decision follows the council's September approval of an amended livestock ordinance, which allows citizens to apply for permit to keep up to six chickens for non-commercial use inside the city limits."
We've had chinchillas, ferrets, hedgehogs, rabbits, birds, tarantulas, snakes, lizards, turtles, hamsters, rats, mice, guinea pigs, geckos, frogs, crabs –you name it– come through SPCHS over the years, and occasionally also wild animals and goats or other small livestock 'pets.'  Our mission includes pets of all kinds, although we doubt this change in ordinance will mean an increase in homeless exotic animals locally. When animals come to us that are not legally considered pets, or which we think would be better served by assistance specific to their species or breed, we call on other rescue professionals for help.
The legal line between pet and livestock is a tough one; we're in the pet business, not the livestock business.  That means there's not much we can do when it comes to horses, pigs, goats, chickens and other animals classified as livestock, even when they're also pets, because the laws are different.  Even so, if we can't jump in ourselves to help directly, we absolutely WILL help you get heard with the proper authorities and/or rescue group when needs arise.  Check out our pages on abuse and neglect complaints for more information.
Several people have inquired about SPCHS' position on exotic pet ownership.  We've not yet made a formal statement when it comes to circuses, exotic or wild animals.  Staff and Board have discussed the pros and cons of wild and exotic animals in human care, and we are generally not in favor for a variety of reasons.  Until we take a position formally, we'll suffice to leave you with some food for thought:
All the shelter pets want for Thanksgiving are loving homes
Pet Report By Cory McKeown
For us humans, Thanksgiving is known to be a time when we reflect on our blessings- we are grateful for our families, our health, our warm homes… A common blessing we share with the dogs and cats at the shelter is the blessing of having someone to love. Unfortunately, for some the pets that have been at the shelter for a long time now, this blessing just hasn't happened.
Some of our dog residents have been lingering at the shelter for weeks, and sometimes even months. "Kellogg", the handsome German Short-haired Pointer that we have featured several times in this report, is still here, spending his life in a cage. He is a very active, athletic dog- true to the characteristics of his breed. We have noticed that he sometimes does not seem to like or trust men, but is very enamored and downright flirtatious with the women who stop by his cage to say "hello". He would be a wonderfully protective jogging partner for a single woman- truly a best friend. It would be such a Thanksgiving blessing for him to be out of a cage and in the heart and home of an active, loving woman…
Several of the kitties have been shelter residents for literally months now. Little "Pumpkin" is a pretty calico that has been here since October of 2011! She is a little shy at times, but would be a great companion in a quiet home. Chatty little "Baby" has been asking shelter visitors to take her home and love her since May, but so far has only been disappointed- over and over again.
Please come and meet some of these unfortunate "long-timers" that have spent so much of their lives here at the shelter. Please come and consider giving them loving homes- the blessing they want more than anything else in their lives…
Come to "Pet Play Day" at Funland Nov. 30th and help support the shelter!
The Epping family, owners of the fantastically fun local arcade, have been wonderful supporters of the South Pacific County Humane Society for years now, and are again "stepping up to the plate" in a very big way to help the homeless shelter animals.
On Friday, November 30, all of the profits from the entire day at Funland will be donated to the shelter- this means that not only can you and your family enjoy a very entertaining time at the arcade, you can help support your local no-kill shelter at the same time!
Funland is open from 12 noon to 10pm daily. Please come enjoy this very important fund-raising event. We are very grateful to the owners of Funland for their loyal support.
Pet Play Day at Funland