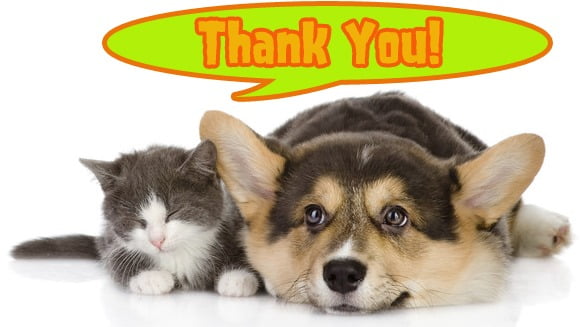 Fees vary based on the medical needs and adopt-ability of each pet and include adoption, first shots, worming, flea control, spay/neuter, and $5 off microchipping, as well as a free vet visit if needed.
Adoption rates:
Kittens (under 6 months): $75
Cats (over 6 months): $65
Cats (8 years and older): $40
Puppies (under 6 months): $175
Dogs (over 6 months) $ 125
Dogs (8 years and older) $50
Please take a moment to fill out this form and pre-pay a pet's adoption fee, making him or her more attractive to potential families!
Or
Send a check, noting the funds are for sponsorship. Be sure to let us know if your sponsorship is a gift for someone as we'd be happy to send them a card, or wrap it up for you to give in person: PO Box 101, Long Beach, WA 98631
Stop by our Shelter to meet a specific pet to sponsor: 330 Second St. NE, Long Beach, WA 98631
Be sure to tell us if you'd like an update when Fido or Fluffy finds their forever home!
You can also pay a homeless pet's adoption fee as a gift to give a loved one. What a wonderful present, knowing you've helped a homeless pet find a loving home. Sponsor any of our pets and we'll create a certificate or gift box for you to give to that special someone on Christmas morning…or for a birthday, anniversary or any reason at all.
You can also sponsor one of our pets through their listing on petfinder.com. Just look for, and click on, the red "sponsor me" bow and follow the directions. You can sponsor any of our pets listed online!
[mp:id=21]