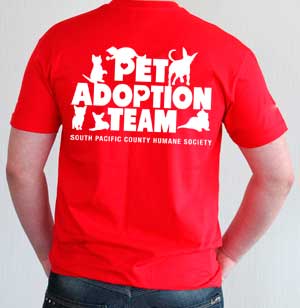 Our Pet Adoption Team is made up of about forty volunteers who labor in and/or out of the Shelter for the benefit of our pets.
Available Positions IN the Shelter
Adoption Counselor.  Meet people as they enter the Shelter and walk them through the facility to meet the pets while explaining our adoption procedures.  Assist them with the application process and serve as their primary contact before, during and after adoption.  This position interfaces with shelter staff on behalf of the customer to provide the best possible customer experience.
Front Desk.  During shelter open hours, answer phones, greet customers, take donations, and serve as the Jack Russell of All Trades with light computer and paperwork tasks.  Ours is a fun, fast-paced, environment!
Cage Mucker.  Cats, dogs, or both!  When volunteers help staff with janitorial duties, they keep our pets safe from disease and free up human resource budget.  Most work is done between 7am and 10 am, while the shelter is closed to the public.
Cat Cuddler.  We are in constant need of volunteers to help socialize our shelter felines.  Sit with the cats in our play rooms and engage them in exercise and/or human contact or work with one of the kitten pens!
Dog Walker. Exercises shelter dogs in our enclosed areas and/or on leash walks.  Our facility is less than half a mile from the beach; enjoy a beach walk with a dog and help him become more adoptable!
Available Positions OUT of the Shelter
Advisory Council.  Do you have an area of expertise you would like to share with SPCHS?  Would you like to chair a fundraiser or other event?  Maybe you have a trade skill (electrical, plumbing, carpentry, etc.) you can share?
Board of Directors.  Our board is very much a working board, with a focus on setting direction to improve SPCHS through vision and policy while fundraising, fundraising, fundraising.  We believe in term limits and are always looking for new energy.
Project Volunteer.  Be on call when we need to put together a work group to stuff envelopes, or pull weeds or need help with the day of an event.  You tell us the type of project for which we can call you for help.
Team members are nearly always SPCHS Members.  While you don't have to pay membership dues to be a volunteer, at $20 a year, most feel they can take that step.
Regardless, we are so grateful for every gift of time and energy!
Call the shelter to get involved (360-642-1180) or email volunteers@beachpets.com.
Want a t-shirt?  They're only $15 at www.bjspetprojects.com
We have some truly amazing people volunteering their time to work in our shelter. They come, day in and day out, rain or shine, to bathe the critters, exercise them, play, cuddle, entertain and love them. They muck cages, change litter, tackle a mountain of laundry, answer phones, tally statistics, write grants, take photographs, write up animal stories, build kitty trees, fix the roof, schlep "stuff", paint the building, plan and produce fundraisers, walk in parades, work at events to promote the Shelter, make signs, decorate and clean our facility, take animals to and from the veterinarian, take complaints about animal abuse, make visits to talk with people about humane animal care, and pretty much anything else we need to keep this operation running.
Whew! This writer gets tired just thinking about how much our volunteers do!