Thanks to everyone who came out and had a good time!  We had our most successful tournament to date!
A SPECIAL THANKS TO OUR 2016 TOURNAMENT SPONSORS:
Andersen's Oceanside RV Park
Great NW Federal Credit Union
Pacific Realty
Bailey's Saw Shop, Inc.
R. Michael Greer
Paws by the Sea
Basket Case Greenhouse
Guy Glenn Law Firm
Peninsula Moose Lodge #2362
Benson's by the Beach
Harmony Soapworks
Peninsula Pharmacies, Inc
BJ'S Pet Projects
HERB N LEGEND Smoke Shop
Peninsula Players
Cann Lawyers
Jack's Country Store
Raymond Federal Bank
Charles Nelson Guesthouse
Lighthouse Realty
Salt Pub & Hotel
Sandy Clancy
Long Beach
Commercial Security
Sandy's Gun & Ammo
Consign Me
Long Beach Recycling & Transfer Station
Seaview Mobil
Cottage Bakery
Long Beach Realty, Inc
Shelburne Inn,
Retaurant & Pub
DeeDee Eaton Mead Insurance
Marie Maulden
Gary & Sue Skinner
Discovery Coast Real Estate
Mary Kay Ramage
Long Beach Realty
Sparks Automotive
Don Nisbett Gallery
Haskett Massage Therapy
Strand Insurance
Dr. Roof, Inc
Nahcotta Suites LLC
Sunset Auto Parts, Inc
Englund Marine & Industrial Supply
NW Insurance & Financial
The Depot Restaurant
Funland, Inc
Oceanside Animal Clinic
Rod & Verna Vetter
Galletti's Spaghetti House
& Diamond Expresso
Pacific Eye Clinic
Wind World Kites
42nd Street Café
June TBD, 2017 • 10:30 am
Peninsula Golf Course • 360-642-2828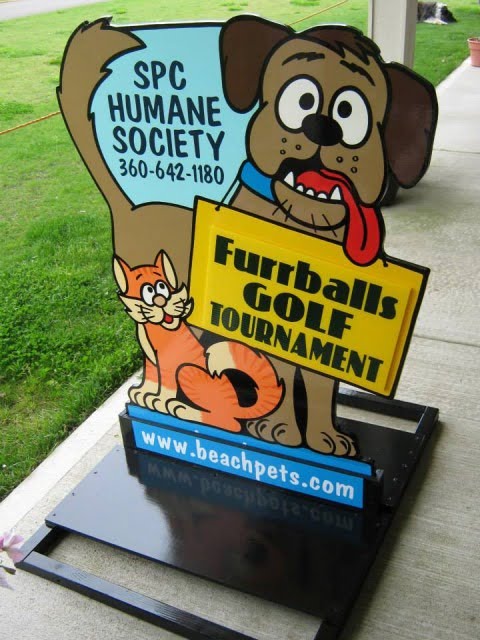 Join us for the 8th Annual Fore! The Furrballs Golf Tournament at
Peninsula Golf Course
here in Long Beach, Washington! Best of all, your participation helps support the animals here at our NO-KILL Shelter
Here's your chance to play some golf, enjoy a great lunch and win prizes from to free golf to cash and more! The tournament will be a 2-Person Scramble format, with prizes for 1st Place, 2nd Place and 3rd Place as well as field events. Mulligans will be available and we're planning to again offer a chance at a hole-in-one for $10,000.00!
BIG RAFFLE! It's your chance to purchase a winning ticket and support the shelter! The drawing will be held on October 29, 2016.
Entry is $35 per person and includes lunch following the tournament. Call Peninsula Golf Course at 360-642-2828 for details or to sign up. Space is limited – register early!
Rules of the Game
We will play from the white tees

Two Person Scramble format – 25% of handicap.

Each person hits 1 drive, and then takes the best drive, then both hit from each best shot chosen until the ball is holed out. One player on team must use 3 drives.

Preferred Lies – One club length no closer to the hole

Putts – Within 6 inches no closer to the hole

Casual water and ground under repair is a free relief within 1 club length no closer to the hole

Cart Drivers – Please obey all signage regarding golf cart routing

Once teams have arrived to their assigned hole, a horn will sound and play will begin.

Please switch score cards with the team you are playing with
Field Events – PRIZES!

Closest to the pin on #4 Ladies
Closest to the pin on #4 Men's
Longest Drive on #7 Ladies
Longest Drive on #7 Men's
Tournament First Place
Tournament Second Place
Tournament Third Place
Hole-in-One $10,000.00 CASH PRIZE Challenge
Interested in being a sponsor?
Sponsorships start at just $25!
All sponsors will be recognized during lunch and in signage at the tournament, here on beachpets.com and in the Chinook Observer.
Contact Rod Vetter at 360-642-4748 or rod @ beachpets.com

Event held at Peninsula Golf Course