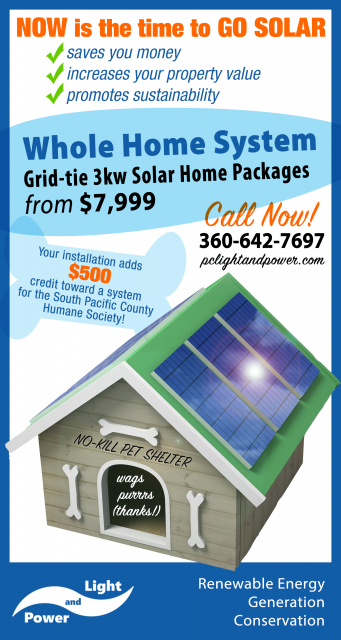 Some of you may be aware that our Shelter facility is heated through water pipes in the flooring.  This keeps the heat close to the pets without a lot of waste heating air.
A few years back, we explored adding a rooftop solar system but the cost:benefit ratio just wasn't there yet.  NOW IT IS!
Solar technology has changed a lot recently and is truly affordable to install for homes and businesses, even trailers! Many find that it takes only a few years to "break even" on the investment and start to fully realize cash savings on a monthly basis.
Our friends at Pacific Coast Light and Power have stepped in with a deal we simply cannot refuse:  They will donate  $500 in credit toward a 5kw solar array for the Shelter each time any array is sold mentioning SPCHS.  20 installations will buy us our new system free of charge.  We are happy to promote these because we really believe in the value.
Why would you do this? 
Save money.Solar panels are more affordable than ever. A 3kw array with WA made micro inverters and racking included qualifies for the 30% federal tax incentive.
Feel good about using clean, renewable energy.  Solar power promotes sustainability and cuts carbon emissions.
Improve your real estate value. Owning solar panels increases home values by 20% and solar homes sell 17% faster than homes without solar.
Make a significant gift to the Shelter without it costing you cash.
Double your dollar's value by making a donation with the same money you use to buy your own energy-saving solar system.
Move the Shelter a considerable step closer to getting a solar array for the pets!
[olimometer id=3]
Amount Raised: [olimometer_progress id=3]
Goal Amount: [olimometer_target id=3]
Still Needed: [olimometer_remaining id=3]
How to help: 
Get out your electric bill and figure out what you're paying annually.
Contact Pacific Coast Light and Power for a no-commitment quote on how much of a system you would need to replace that bill (systems start around $3,000). 360-642-7697
If you choose to schedule the install, we imagine you'll have made up the difference and be on "free" electricity in just a few years!
Be sure to let Pacific Coast Light and Power know you want your install to be credited to the Long Beach Shelter.
Want to make a cash donation instead? 
Thank you!  Look for the kitten at the bottom of this page and you'll find a donate button.  Simply specify your donation amount and, during check-out, let us know your gift is for our solar project.