Happy Birthday, Sarah!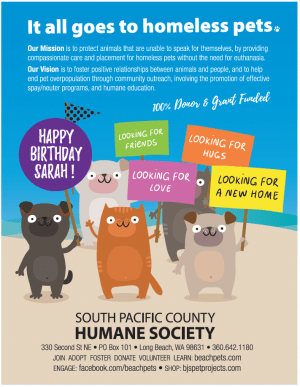 A long-time friend of SPCHS (and happy tail mom) is having a birthday later this month and wanted to turn her party into a fundraiser for our pets.  How cool is that?
If you, or your business, are planning  a food/supplies drive or fundraiser for our homeless beach pets, please let us know.  We will work with you to ask for the items really in need at that time, and help promote the event or drive.
---
It's easy to do a fundraiser for a non-profit like SPCHS on Facebook.  Need help?  Ask our webmaster!
---
Our SPCHS Fundraising Team is always looking for new members to shake things up.  Contact Sandy, Patti, or Keleigh for more information.
---