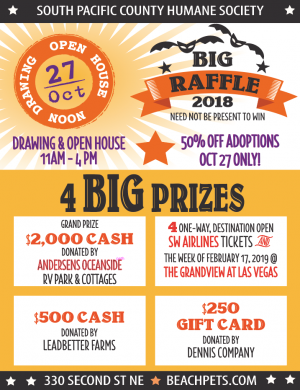 Stop by the Humane Society for our Open House and BIG Raffle Drawing, on Saturday, October 27, 2018, 11 am to 4 pm.  Enjoy snacks and refreshments while you visit with our amazing dogs and cats. The shelter will be decorated in the Halloween theme.
The BIG Raffle will take place at noon at the SPCHS Annex, next door to the Shelter. The winners of the BIG Raffle and "Losers Can Be Winners Drawing"  will be announced shortly after on this website and other social media.
There will also be fun activities for children from 1  to 3 pm at the SPCHS Annex. Storytelling starts at 1 pm, with face painting right afterward.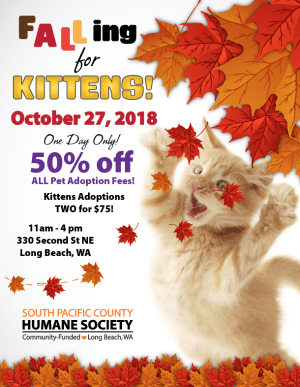 PLUS we're FALLing for Kittens!  October 27th only, all adoption fees will be 50% off and kittens will go TWO for $75!
Bring your whole family to enjoy a day-long event at our Open House, the BIG Raffle drawing, and children's' activities!
330 NE 2nd Street – Long Beach, WA 98631

PLEASE THANK OUR SPONSORS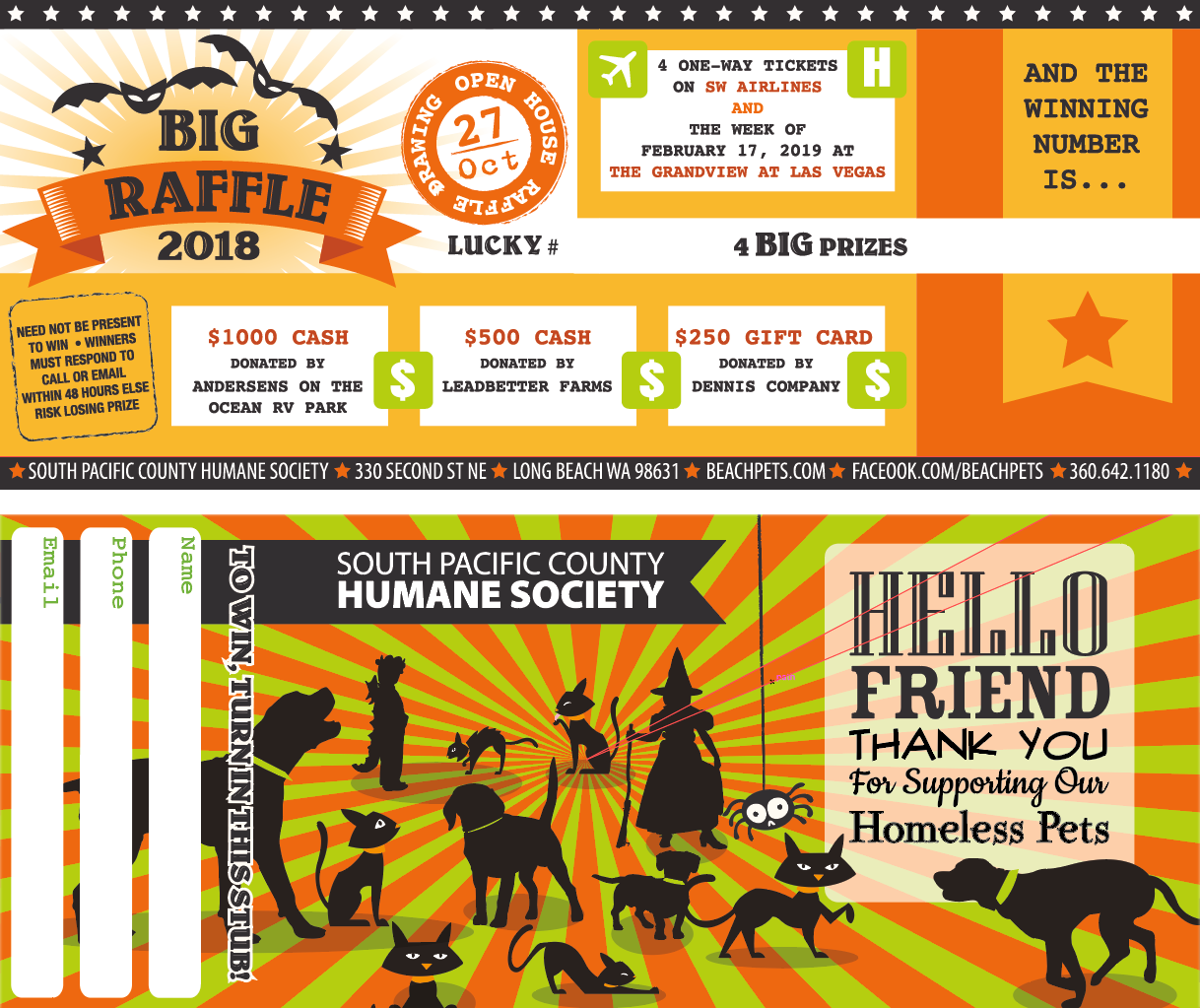 PLUS…
"LOSERS CAN BE WINNERS"

Bonus Drawing: After the BIG RAFFLE drawing, losing tickets are automatically entered into our LOSERS CAN BE WINNERS drawing for a bevvy of surprise items.  On the list so far:
One week's pet boarding at our SPCHS shelter
One year's sponsorship of a dog kennel
One year's sponsorship of a cat kennel
Winners Of Our 2017 Raffle
$250 Dennis Gift Card – Vicki Bidema
$500 Cash Donated By Crab Pot – Julie Grantham
$750 Cash Donated By Breakers – Rebecca Karick
Grand Prize $2000 Cash Tami Hall
Kennel Sponsor: Steven Cook
Cat Sponsor Janie Careaga
1 Week Boarding Brianna Mc Grew
BIG THANKS to everyone who bought -or sold- tickets!