Give Our Beach Pets A Chance Tickets
Look for your cart to the right —>
It's a Tail-Wagging Time for People Who Love Pets!
We've got fun in store for you while we raise funds to support our Homeless Pets Medical Fund!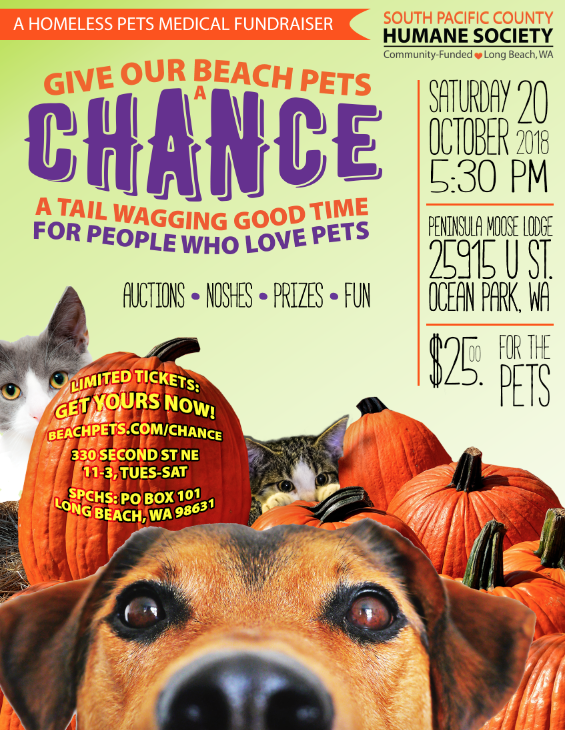 You'll get a great DOGGIE BAG of fun as you check in, then munch on HEAVY H'ORS D'OUEVRES as you head to the no-host HAIR OF THE DOG COCKTAIL BAR provided by the Peninsula Moose Lodge.  Take your chances at our SILENT AUCTION and CHANCE RAFFLE BASKET items while listening to great music and our emcee, the gregarious James Clancy.
WHAT ARE THE CHANCES YOU'LL TAKE A GREAT PHOTO?  Fantastic!!  Our photo booth, with fun props, will be open all evening and guests are encouraged to post photos to social media using the hashtag #BEACHPETSCHANCE so all can see everyone's images.  We'll even go live on Facebook during the event, showing how hashtagging works!
Our Faux Adoption Booth, GIVE THEM A FIGHTING CHANCE, will also be open throughout the shindig.  You can adopt a pet and give it a home, along with a name, collar and a little bit of bling.  Fun for the evening, you'll take home your adopted pet –which makes a great gift for a kiddo in your life (including your inner child).
We'll have a few games of chance, including DOUBLE MERLE SWAG and  PRIZE PUNCH.  Your playing will increase the chances of pets in our care AND your winning a prize.
A NEW TATTOO IS CHANCY so we'll have to include tats in the evening's activities as well!
Plus, it will be your absolute LAST CHANCE TO BUY BIG RAFFLE TICKETS.  The drawing, for cash, trips and more, will be held the following Saturday at the Shelter Annex.
Tickets are limited to just 125, which is a fraction of our pets' supporters, so don't take a chance on missing out: Get your tickets NOW!
Give Our Beach Pets A Chance Tickets
Look for your cart to the right, at the top of the sidebar —>